News

LATEST NEWS AND EVENTS FROM THE SCHOOL OF ENGINEERING
Back to noticia_unav_2021_04_27_graduacion_alumni
73 students from the XVII Class of Alumni Scholars graduate
This academic year 363 university students are studying at the University of Navarra thanks to donations from alumni, companies and institutions.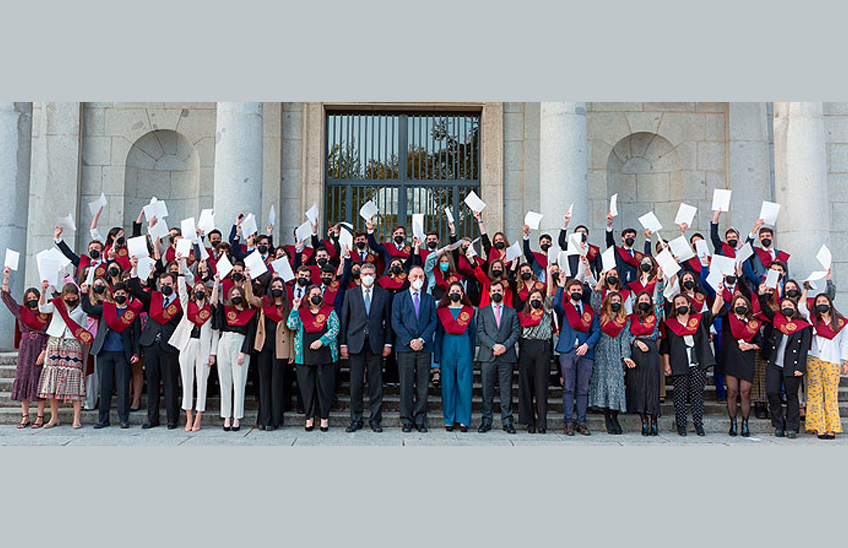 73 students from the XVII Class of the Alumni Scholarships Program celebrated their graduation, accompanied by some of their mentors and professors. Family, friends and donors followed the event via streaming.
The ceremony was presided over by the Alumni Vice President , Tomás Gómez-Acebo. In his speech, he emphasized two essential points for their future work: "What is really important is to be a good person and, above all, the humanistic training in which we place special emphasis in this University". He also congratulated the students and encouraged them to continue learning and to continue being better people in order to contribute to creating a better society.
Igor Errasti, Administrator of the University, Sergi Molas, director Alumni, and María Vasilj, 4th year Nutrition student and representative of the XVII graduating class, also participated in the event. María Vasilj expressed her gratitude to the donors of the scholarship program: "We are indebted to many people and institutions who, without knowing us, have bet on us; who, without knowing us, have wanted to participate in the fulfillment of our dreams... To all of you who have made this wish of the founder of the University of Navarra come true, that no person should fail to study at this University due to lack of economic resources, thank you".
A donor-supported scholarship programme
In total, 363 young people are studying this year thanks to this initiative, a scholarship programme aimed at students with a good academic record who wish to study at the University of Navarra but do not have sufficient financial resources.
The program is financed thanks to the contribution of alumni, friends and institutions that, aware of the importance of training future professionals, each year make it possible for a good issue of students to fulfill their dreams. In addition to the more than 7,000 alumni collaborators, the program has the participation of the following entities: association de Amigos de la Universidad de Navarra, Banco Santander, Caja Rural de Navarra, Banco Pichincha, Campus Home, Fundación Bolar and Fundación IEISA.