News

LATEST NEWS AND EVENTS FROM THE SCHOOL OF ENGINEERING
Back to noticia_tecnun_20210427_colaboracion
Collaboration between Tecnun and the association pro Family Caregivers
Students of the School have given an informatics course introductory course to APCF members.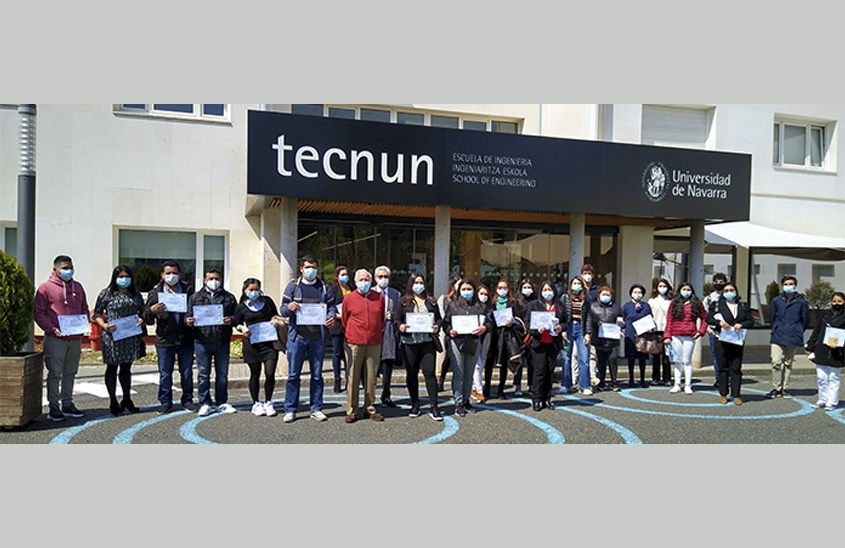 A few days ago, the closing ceremony took place at the School of Engineering of the University of Navarra. TecnunThe School of Engineering of the University of Navarra, the first introductory course a la Informática that Engineering students have taught to family caregivers of the APCF association Guipuzcoa. The initiative, which arose as a result of the partnership agreement between both entities, has allowed more than 30 caregivers of elderly and dependent people to improve their training to improve their professional training and staff.
The association Pro para el Cuidador Familiar (APCF) for dependent patients was created in 2007 by a group of people from different professions who, from their headquarters in Paseo de los Fueros, lend their support, knowledge and experience to support family caregivers -often from other countries- making their work easier, more bearable and more effective for both the patient and for themselves. sample In this sense, its president, Milagros Tejedor, expressed her satisfaction at having financial aid from institutions such as Tecnun.
The diplomas were presented by the president, accompanied by the secretary of association, Luis Paisán, and by Juan Isturiz, board member of the same. attendance Tania Aguilera, Maico Argañaraz, Delmi Carolina Argueta, Saira Argueta, Christi Anahly Aguilar, Eva Yanet Corea, Inés Flores, Scarlet García, Noelia Gutiérrez, Aniesca Hernández, Yasmina Joya, Greysi Melissa Laínez, Leyla Yolany Lorenzana, Maria José Martínez, Edwin Meza, Yolanda Nacimiento, Sonia Ramos, Ingryd Janet Rodas, Scarlet Vaness Rodríguez, Scarleth Ruíz, Maribel Ruíz, Amilca Santos, Elizabeth Silva, Santos Noriel Sierra, Celia Soria, Kenia de Janira Tinoco and Karrelia Toruño.
For the students of Tecnun, volunteers at Tantaka, the University of Navarra's solidarity time bank, it has also been an opportunity to develop their skills. Nicolás Martínez de Urbina, Marta Oscoz, Mireia Andueza, Ane San Martín, Iñigo Fernández, Daniel Cornejo and Yago Aranzabal, as well as Pablo Moreno and Miguel García de Viguera have collaborated with this initiative over several weekends.