News

LATEST NEWS AND EVENTS FROM THE SCHOOL OF ENGINEERING
Gorka de Miguel defends his thesis at Tecnun
The title of his paper is "Multisensor Fusion for Smooth Navigation in Railway Environment" although it was written and defended in English.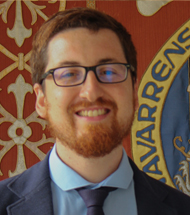 Gorka de Miguel defends his thesis at Tecnun.
PHOTO: Communication Service
Gorka de Miguel made the public defence of his doctoral thesis, entitled "Multisensor Fusion for Fluid Navigation in a Railway Environment", last 21st July, although his work was written and defended in English before the examining board chaired by Dr. Roc Berenguer Pérez, in the Aula de Grados of the Ibaeta Building at Tecnun.
After the defence of the thesis, all the members of the examining board congratulated Gorka de Miguel and his thesis director and co-director, Dr. Iñigo Adín Marcos and Dr. Jon Goya Odriozola, for the research work carried out.