News

LATEST NEWS AND EVENTS FROM THE SCHOOL OF ENGINEERING
Opening of the Postgraduate Academic Year 2019-20 and Imposition of Master's Degree Bursars
54 students have completed their studies in one of the engineering master's degree courses offered by the Tecnun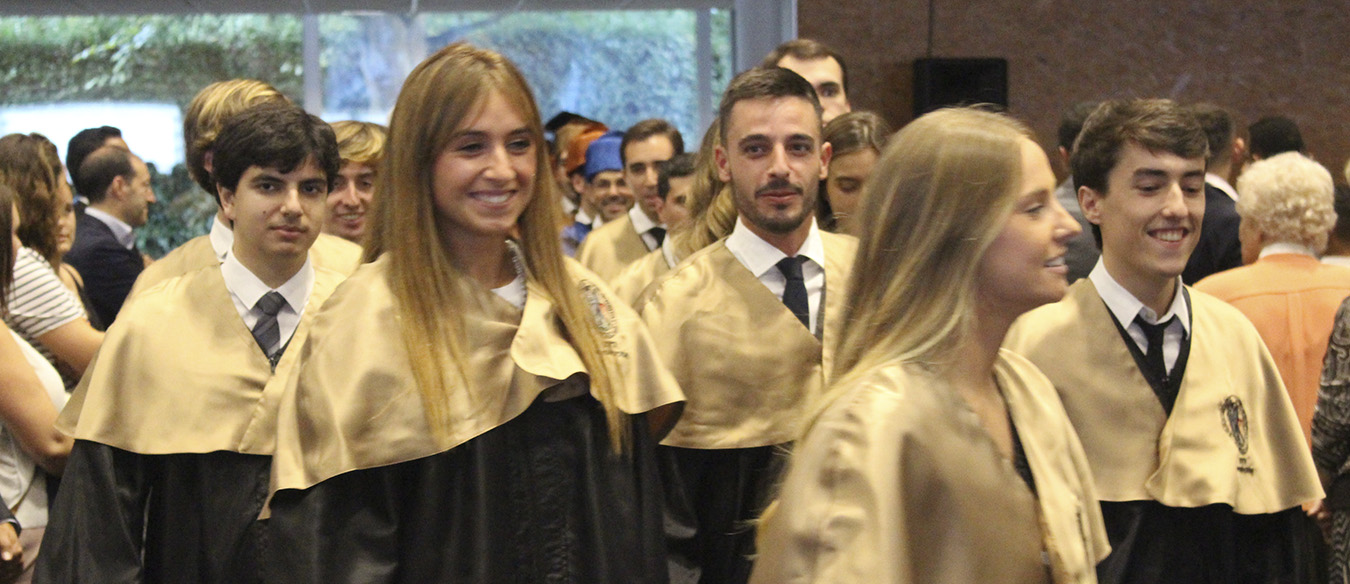 54 students have completed their studies in one of the engineering master's degrees it offers Tecnun
PHOTO: Courtesy
Tecnun today celebrated the Opening Ceremony of the 2019-20 Postgraduate Academic Year and the Imposition of Master's Degree Caps. The event was presented by the coordinator of studies and director of Communication of Tecnun, Coro Aycart, and was attended by the rector, Alfonso Sánchez-Tabernero, the president of the Basque Parliament, Bakartxo Tejeria, the deputy minister of Universities and Research, Alfonso Morais, and the president of the General Assembly of Gipuzkoa, Xabier Ezeizabarrena.
Also in attendance were the Provincial Councillor for Economic Promotion, Tourism and the Rural Environment, Imanol Lasa, the Provincial Councillor for the Department of Treasury and Finance, Jabier Larrañaga, the academic secretary of the Gipuzkoa Campus of the UPV, Itziar Zubia, the vice-rector of the University of Deusto, José Antonio Rodríguez, and Marisa Arriola, director of BIC Gipuzkoa.
The regional director of Innovation, Jon Gurrutxaga, the manager of the Gipuzkoa College of Engineers, Alex Abancens, Ana Irigoyen, from the University of Navarra, and Josune Retegi and Inmaculada Ruiz, from OSI Donostialdea, were also present.
Also taking part in the event were the director of Tecnun, Raul Antón, the director of Development, Iñigo Gutierrez, the manager Javier Aizpun, and the deputy directors of Tecnun; Paloma Grau, Jorge Juan Gil, Francis Planes and Marta Ormazabal. Also the vice-rector Tomás Gómez Acebo. From Ceit-Ik4, its president, José María Rodriguez Ibabe and Reyes Elizalde. The inaugural lecture was given by the corporate scientific director of Cinfa Group, Julio Maset, and was entitled: "Innovation, sustainability and accessibility".
The ceremony began with the reading of the most relevant events of the past academic year, such as the launch of the Master's Degree in Industrial Engineering at Tecnun, which joins the one that has been taught for decades in San Sebastian.
Extraordinary Doctorate Prizes
The ceremony continued with the awarding of the Extraordinary Doctorate Prizes. This year's winners were Dr Juan Pablo Romero and Dr Miguel Martínez-Calderón. Romero was recognised for his doctoral thesis "Bioinformatical Analysis of Alternative Splicing", while Martínez-Calderón was recognised for his thesis: "Ultrafast laser micro/nano fabrication of advanced material surfaces". This was followed by the presentation of the birettas of the new Masters, an aurresku of honour that preceded the words of Oscar Lapuente, on behalf of the new Masters, and, finally, the closing of the event by Mr. Alfonso Sánchez-Tabernero, Rector of the University of Navarra.