News

LATEST NEWS AND EVENTS FROM THE SCHOOL OF ENGINEERING
Two students from Tecnun among the winners of FAST TRACK
Arturo Moya and Francisco Miranda have been awarded in the University's entrepreneurship program.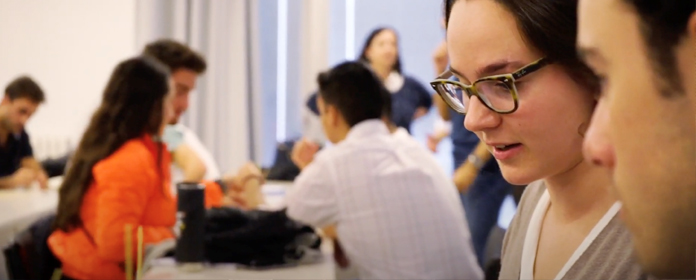 Two students from Tecnun among the winners of FAST TRACK
PHOTO: Communication Service
The Tick&Go team was the winner of the IV edition of FAST TRACK, a training and education program in entrepreneurial skills organized by the Innovation Factory of the University of Navarra. A total of 60 students defended their business ideas before the jury that announced the winners by videoconference. Among the winners were Tecnun studentsArturo Moya and Francisco Miranda.
The winning group, which included Arturo Moya, a 2nd year Industrial Design and Product Development Engineering student. Industrial Design and Product Development Engineeringoffers a sustainable alternative to printing paper tickets. Tick&Go is an app where users can receive their purchase tickets in digital format. The application also allows the user to organize tickets by date, store, amount, or to track and report expenses.
The student Arturo Moya was encouraged to participate because he has always wanted to create companies and "I am fascinated by the creation processes involved". In addition, he found it "super interesting" to work with students from other majors at the University of Navarra. "My team clicked from the beginning, we all liked each other very much and we conceived Tick&Go on the first day. The fact that my team was made up of people with such different degrees - Marketing, Governance, Psychology or Medicine - meant that by having such varied ideas we were able to win first place," says Arturo, who, as an engineer, provided the technological information that forms the main part of the project.
The prize consists of a trip to Israel and €1500 in technology. "The trip to Israel seems very interesting to me as it will allow us to see the revolutionary ideas that are in the process of being created and will serve as inspiration for future projects," concludes Moya.
On the other hand, the second classified team was Swiftly and also had a representative from Tecnun. In this case it was Francisco Miranda, 1st year Industrial Electronic Engineering. His proposal is an application that allows restaurants to better manage time and customers. It makes it easier for them to keep track of the bill from their phone, control the cooking process and have each customer pay their portion easily, quickly and comfortably.
Francisco reveals that he signed up mainly because he doesn't want to wait to finish his degree to start a project or set up a business. In his opinion, he got the best team he could have, as it was totally multidisciplinary, "which gave us six different points of view and a great distribution of work".
"Our project is Swiftly, a charging and optimization system for restaurants that connects customers with the restaurant, and the restaurant with us through a program and an app," explains Francisco. "As an engineer I contributed the information of the part of the technology we had to use, as well as analysis of our market and customers. I must say that, thanks to the subject of Economics and Business, everything was made much easier since I made use of everything that is given in the subject," concludes the student of Tecnun.