News

LATEST NEWS AND EVENTS FROM THE SCHOOL OF ENGINEERING
Law and Engineering among the top-ranked courses at the University of Navarra in the Times Higher Education rankings
In the area of Engineering Tecnun achieves a ranking of 601-800 worldwide.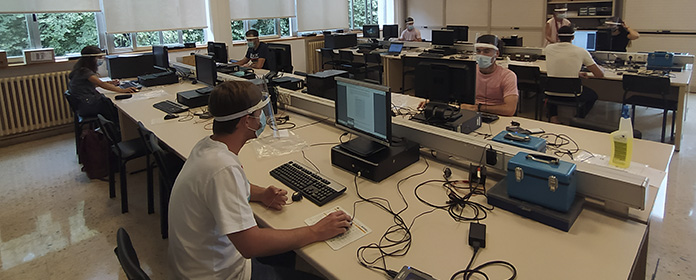 Students of Tecnun wearing a face mask.
PHOTO: Communication Service
The University of Navarra has been ranked in seven of the eleven areas (Engineering, Arts and Humanities, Business and Economics, Clinical and Health, Law, Life Sciences, and Social Sciences) of the 2021 Times Higher Education Subject Rankings. In the Engineering subject area, Tecnun, the School of Engineering, achieves a ranking of 601-800 in the world, an area in which it excels because of revenues from industry.
This ranking evaluates the university performance of the areas according to five indicators: research impact, income from industry, international perspective, research and teaching. In each area, these indicators have different weights in order to adapt appropriately to the reality of each sector.
It should be noted that the University of Navarra is ranked third in Spain for the impact of its research, international focus and teaching. Likewise, in the area ofLaw, it is ranked first in Spain and 44th in the world thanks to the impact of its research and its international focus. In addition to these two aspects, it is also first in law teaching in Spain. 
In Businessand Economics, the university ranks 151-175th in the world. Likewise, inClinical and Health, the university obtains a position in the 201-250 range, up from last year (251-300). In this area, the University is the best in Spain in terms of industry income, where it also stands out in research impact. The university is also in this rank (201-250) in the area ofArts and Humanities, where good results are obtained in teaching. 
The University of Navarra is ranked 301-400 inLife Sciences, where it stands out for the impact of its research, and 401-500 inSocial Sciences, where the University stands out for its revenues from industry. 
The Times Higher Education Subject Rankings
The ranking has assessed more than 1,500 universities worldwide in the eleven areas examined, with more than 500 new teaching institutions incorporated in this edition. Its data come from the universities themselves, from the Scopus scientific production database and from surveys of academics around the world. The ranking uses a total of 13 different values grouped into 5 indicators. You can consult the results at: 
https://www.timeshighereducation.com/world-university-rankings/by-subject