News

LATEST NEWS AND EVENTS FROM THE SCHOOL OF ENGINEERING
Iñigo Apaolaza defends his thesis in Miramón
This brings to 651 the number of theses defended at the University of Navarra Technology Campus.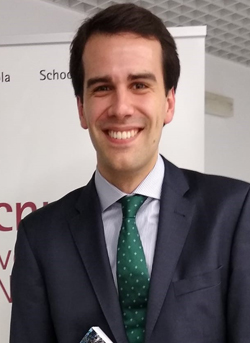 Iñigo Apaolaza
PHOTO: Communication Service
On 22 November,Iñigo Apaolaza made the public defence of his doctoral thesis, entitled"New approaches to Constraint-Based Modelling for the identification of metabolic therapeutic targets in cancer ", before the examining board chaired by Dr. Ángel Rubio Díaz-Cordovés.
After the defence of the thesis, all the members of the examining board congratulated Iñigo Apaolaza and his supervisor, Dr. Francisco Javier Planes Pedreño.