News

LATEST NEWS AND EVENTS FROM THE SCHOOL OF ENGINEERING
Back to 2019_11_28_noticia_TECNUN-tesis-inigo
Iñigo Apaolaza defends his thesis in Miramón
This brings to 651 the number of theses defended at the Campus Tecnológico de la Universidad de Navarra.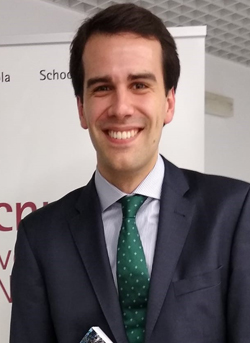 Iñigo Apaolaza
PHOTO: Communication Service
Iñigo Apaolaza has made, this November 22, the public defense of his doctoral dissertation, entitled"New approaches of Constraint-Based Modeling for the identification of metabolic therapeutic targets in cancer ", before the tribunal chaired by Dr. Ángel Rubio Díaz-Cordovés.
After the defense of the thesis, all the members of the tribunal congratulated Iñigo Apaolaza and his director, Dr. Francisco Javier Planes Pedreño.