News

LATEST NEWS AND EVENTS FROM THE SCHOOL OF ENGINEERING
The University awards the Silver Medal to 78 professionals
"We know that although alone we could go faster, together we can go further," says the rector.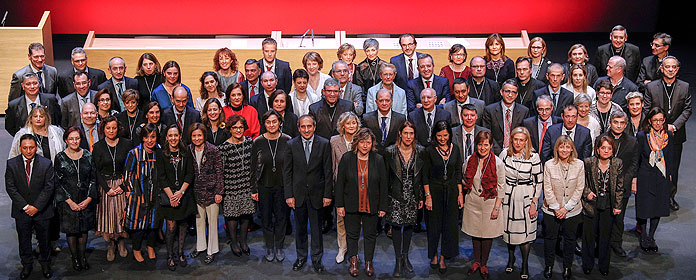 The University of Navarra celebrated the awarding of Silver Medals to professionals who have been working for 25 years. This year, the distinction has been awarded to 78 people: 7 belonging to IESE, which were awarded on 20 December at a ceremony in Barcelona, and 71 to the Pamplona and San Sebastian campuses, one of them posthumously to the professor of the Faculty of Theology Juan Antonio Gil Tamayo, who will be awarded on 9 March at an academic ceremony in memoriam.
The ceremony, which took place in the Museum Theatre of the academic centre, was attended by the rector, Alfonso Sánchez-Tabernero, and Javier Mata, director of the Research Management Service, representing the group of medallists.
In his speech, the rector pointed out that the university faces challenges together: "We know that, although alone we could go faster, together we can go further," he said. And he added: "We have in mind the big rather than the small. We are able to overcome the incomprehensions or discomfort of day-to-day work, to take into account the great project of building the university.
He also quoted Francisco Ponz, former rector, who celebrated his 100th birthday in 2019: "The entire life of the University reflects the intimate joy of those who only seek to serve others, who aspire to be able to improve this service, who do not seek personal brilliance...".
Javier Mata also highlighted unity and service as the main characteristics of the work at the University. "We are up here today because we have been providing service for 25 years. Service to the University, but service to society through the University," he said.
"These are 25 years of memories. 25 years of research, of healing, of learning to heal and to teach, of joys, of some sadness, of dedication, of willing sacrifice, of adapting to organisational, personal and technological changes in the environment. Sometimes accepting without understanding, sometimes understanding and accepting reluctantly," he said on behalf of the medallists.
List of the 78 medallists
Faculty of Science
Ricardo Ibáñez Gastón
María José Larráyoz Ilundáin
Marta Yarnoz Martín

Faculty of Communication
Idoia Portilla Manjón

Faculty of Law
Javier Fajardo Fernández
Eduardo Ruiz De Erenchun Arteche

Ecclesiastical Faculty of Philosophy
Enrique Moros Claramunt
Sergio Sánchez-Migallón Granados

Faculty of Economics
Fernando Pérez de Gracia Hidalgo

Engineering School (Tecnun)
Itziar Cobo Sotillos
Franklin Díaz Mantilla
Daniel Fernández Estrada
Alejandro Rivas Nieto
Patricio Smith Zubiaga

Faculty of Pharmacy and Nutrition
Guadalupe Beitia Berrotarán
María Isabel Calvo Martínez
Fernando Martínez Galán
María Jesús Moreno Aliaga

Faculty of Philosophy and Arts
Jon Borobia Laca
Pilar García Ruiz
Raquel Lázaro Cantero
Carlos Mata Induráin
Rocío Davis García

Faculty of Theology
Rodrigo Muñoz de Juana
Tomás Trigo Oubiña
Juan Antonio Gil Tamayo, posthumously

CEIT
José Manuel Martín García

Josemaria Escriva de Balaguer Documentation and Study Center
Federico Requena Meana

Top
Pablo Sarobe Ugarriza

Admissions Service
Javier Santos Bermejo

Legal Counsel
Fernando Domingo Oslé

Library Service
Teresa Beunza Nuin

University Chaplaincy
Jaime Sebastian Lozano

Sports Service
Gregorio Mañeru Zunzarren

Research Management Service
Javier Mata Rodríguez

Language Institute
Alessandra Agati

IT Services
Ignacio Sánchez Sesma

Cleaning Service
María Pilar Elizagaray Zaratiegui
Ana Rosa López Luna

Clinic
Clinic assistants
Isabel Goñi Santesteban
Héctor Lerena Cuenca
Monserrat Purti Planell
Pedro Tambo Martínez

Nurses
Roncesvalles Ibáñez Irigoyen
Nora Ibáñez Sanz
Amada Morales Lizaur
Pilar Ara Lucea
Ángeles Henríquez Azcona
Begoña del Villar Torrent
Inmaculada Esparza Aguirre
Elena Martín Aguado
Carmen Gambra Mareca
Alicia Pomar Gaibar

Practitioners
Susana Aramburu Clemente
Amparo Calleja Canelas
Susana Inogés Sancho
Alejandro Sierra Martínez
Javier Cervera Paz
Nuria García Fernández
José María López-Picazo González
Rocío Sánchez-Carpintero Abad
Rosina Zarauza Massó
Alfredo García Layana
Carmen Mugueta Uriaque
Ana Patiño García

Other professionals
Virginia Ayesa Astiz
María Mercedes Zardoya Aznar
Mª Jesús Aramendía Rodríguez
Elena Los Arcos Ibáñez
Beatriz Zúñiga Salcedo
Gema Betelu Lusarreta

IESE
Antonio Asensio Torres
Begoña Cabal Saralegui
Rosa Estrada García
Eulàlia Puig Sanahuja
Natalia Centenera Ulecia
Cristina Rambaud Cabello
Rosa Portilla Fernández