News

LATEST NEWS AND EVENTS FROM THE SCHOOL OF ENGINEERING
Tecnun participates in the Innovation Week - Donostia WeekINN
Naiara Rodríguez has chosen to vindicate the figure of Constance Tipper, who revolutionized metallurgy, at the 'Women Scientists' conference.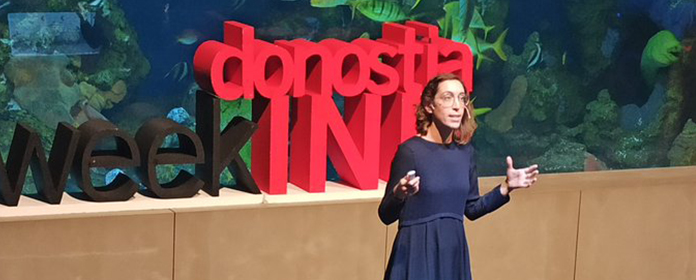 Naiara Rodríguez during her speech
PHOTO: Communication Service
Tecnun has participated in the seventh edition of the Innovation Week-Donostia WeekINN that started on Saturday and will culminate this Friday with the slogan 'Superchanges: Technology, people and collaboration are the answer'.
Tecnun professor Naiara Rodriguez participated in the event "Scientists of Yesterday and Today" that took place at the Aquarium and was broadcast via streaming. In the colloquium, five women scientists who work in different centers in San Sebastian took the stage to talk about the research in which they are involved and pay tribute to some of the great women scientists of history through the story of their lives and scientific contributions. In the case of Naiara, she vindicated the figure of Constance Tipper, who revolutionized metallurgy.
For their part, Tecnun teachers Aitor Cazón and Juan Angel Ferrer-Bonsoms will also take part in the Donostia Innovation Challenge, a challenge in which 400 students from different schools, vocational training centers and universities will participate. Among the topics to be addressed are 3D Printing and Artificial Intelligence.
Ceit researchers Daniel Rosquete, Letizia Zamora and Emilio Sanchez will also be part of the Donostia Innovation Challenge, and will address topics such as Artificial Intelligence, Robotics and Augmented Reality, respectively.